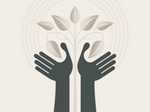 The National Community Learning Hubs Project describes itself as a "revolutionary act" which aims to build community schools and a system of education run and led by local parents and educators and operating in solidarity under natural law.
Parents will be able to send their children to education centres where they are safe, secure, and in a loving child-first environment.
The project is working towards founding education centres around the country and is reliant on volunteers, donations and subscription payments. To get involved, join the local Telegram groups which include support hubs for Kent and Surrey.